Here at Harrogate Apps we specialise in E-Commerce and Web Development services that can help your business function more efficiently online.
Regardless of your business model or the nature of your business we have the E-Commerce solution for you, and can create a new E-Commerce package from the ground up that will fully integrate with existing platforms as well as technologies that are new to the marketplace.
Our web development team will work closely with you to ensure that your business, irrespective of its nature or current IT infrastructure, can cope with the growing demand of a flourishing marketplace.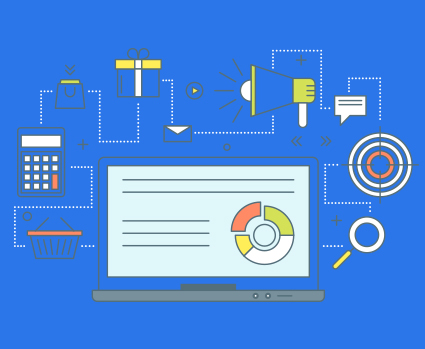 We can link new E-Commerce Web solutions to existing packages; giving you peace of mind that new and old will work comfortably together. We also provide E-Commerce Web solutions that will work with the latest tablet and Smartphone devices as well as with the more conventional in-house systems that many clients may still favour.
At Harrogate Apps we understand that whether or not you are a new business or an older one that you may need assistance in making sure that the E-Commerce package we develop for you is implemented in the right way. With experienced and dedicated development teams at your disposal you can be sure that the E-Commerce application we design for you will fit your needs perfectly, and with almost a decade and a half behind us in this field we are well placed to make sure that your business moves forward embracing the very best that technology has to offer.
Our primary role in your business is to ensure that your customers can order, check stock, communicate, and interact with you in the fastest, most cost effective manner possible, and to this end our application and bespoke software development teams are friendly yet professional and customer focused.
We will be happy to discuss your E-Commerce and Web Development requirements, and look forward to hearing from you. Please send us an email or call on 01423 275423, or fill in the enquiry form that can be found on the "Contact Us" page.
If you have a need for an app developer or E-Commerce developer in the Harrogate area we would be only too happy to hear from you, and we also welcome contact from prospective clients further afield.